Thoracic Degenerative Joint Disease
Thoracic degenerative joint disease, also called spinal osteoarthritis, is a major cause of back pain and neck pain. For the best Neuro Spine Care, visit CMW today!
Thoracic Degenerative Joint Disease
Thoracic degenerative joint disease, also called osteoarthritis, is a term used to describe the degenerative spinal condition in the central part of the back – the thoracic spine. It is one of the most common causes of back and neck pain.
The thoracic spine joins openly to the rib cage and provides support to protect some major organs such as the liver, heart, lungs. The thoracic spine has a less chance of developing degenerative joint and disc diseases as compared to the lumbar and cervical spine. However, degenerative diseases of the thoracic spine do occur.
Degenerative joint disease is the root cause of multiple medical conditions; in the mild stage, it causes pain, numbness, and weakness. On the other hand, in its severe case, it may cause pinched nerves, fractures, cartilage damage, and osteophytes (bone spurs). If left untreated, it may cause problems in the intervertebral discs, such as herniated discs.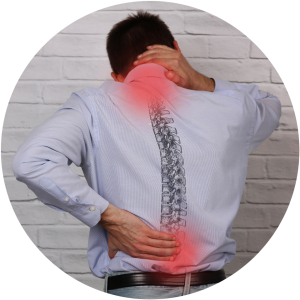 Symptoms of Thoracic Degenerative Joint Disease
The symptoms of Thoracic Degenerative Joint diseases depend on the extent of deterioration. However, the most common symptoms include:
Pain in the back.
Numbness and tenderness.
Muscle spasm.
Inability in movement
Stiffness
Pain with extra activities like exercise, games, etc.
Swelling at the joints
Spinal Stenosis may develop, causing lumbar spine weakness when the disease gets severe.
Treatment for Thoracic Degenerative Joint Disease
Thoracic Degenerative Disc can be treated with conservative as well as operative treatment methods. Surgeons will recommend treatment based on an accurate evaluation of the extent of degradation and future threats. If the disease is in its initial stages, a conservative approach is more appropriate. However, in case of severe surgical intervention is a must. Failure to opt for surgery can worsen the condition and may even cause related diseases.
Non-Surgical Treatments for Thoracic Degenerative Joint Disease
Non-surgical treatments may limit the progress of degenerative joint disease and manage the symptoms. It includes the following treatments:
Rest.
Prescribe anti-inflammatory drugs to reduce tenderness.
Heat apply to reduce stiffness.
Physical Therapy – A special exercise designed to reduce pain.
A neck collar to reduce stress on the facet joints, muscles, and cervical spine.
Ice in acute cases.
Steroidal drugs.
Facet joint injections.
Surgical Treatments for Thoracic Degenerative Joint Disease
If symptoms continue to worsen with time, then surgical treatment is imperative. Although surgeries are inherently risky, at times, they are essential to save a person's health and quality of life. Reliable and effective surgical treatments for the degenerative joint disease are:
Spinal Fusion Surgery
Laser Spine Surgery
Treatments for Thoracic Degenerative Joint Disease in NJ
Are you searching for surgical treatment for Thoracic Herniated Disc in New Jersey? If yes, then you have come to the right place!
Complete Medical Wellness (CMW) is a multi-specialty medical facility located in 7 easily accessible locations throughout New Jersey and New York. CMW has a renowned neuro spine department headed by one of the most prestigious and experienced neuro spine surgeons in the tri-state area.
Our neuro spine department is at the forefront of medical innovation. Our board-certified neuro spine surgeons have specialized experience performing in minimally invasive spine surgery to great results! We promise great patient outcomes and quick recovery.
Complete Medical Wellness spine surgeons offer excellent neuro spine care through a wide range of treatments and procedures and spine surgery for recovery of thoracic degenerated joint disease. Our neuro spine specialists can help you regain a healthy life.
Need help finding a doctor who gives you the best neuro spine care in New Jersey? Call us now and schedule your appointment today.